SITE ADVERTISEMENT

WELCOME

» Welcome to Jessica Lange Fan at jessica-lange.com, your ultimate online source for everything Jessica Lange. She is an American actress who has worked in film, theater and television. She has won several awards, including two Oscars, three Emmys, five Golden Globes, one SAG Award and three Dorian Awards. Here you will be able to find the great quantity of information, photos, videos, news and a lot more about the actress. Here is a fact of fans for the fans. Here is NOT an official page neither do not we have contact with Jessica. If you have any questions and/or comments please be sure to visit our contact page and contact us regarding anything. Thanks for visiting.
LATEST PHOTOS

CURRENT PROJECTS
The Gambler
Genre: Crime, Drama, Thriller
Year: 2014
Role: Roberta
Status: Completed
Release Dates: Here
More Info | Photos | Official | Imdb

American Horror Story
Genre: Drama, Horror, Thriller
Year: 2011 - 2015
Role: Elsa Mars
Season 4
Air Date: Nov. 2014 FX | More
More Info | Photos | Official | Imdb

Wild Oats
Genre: Action, Comedy, Drama
Year: 2015
Role: Maddie
Status: Completed
Release Dates: Here
More Info | Photos | Official | Imdb
CURRENT GIF
AMERICAN HORROR STORY FAMILY

Accepting more affiliates

View all | Be Affiliate
FAMILY SITES
ELITE AFFILIATES
[www] - Damian Lewis
[www] - Kat von D
[www] - Your Site?
[www] - Your Site?
[www] - Your Site?
Accepting more affiliates
DONATE PHOTOS
» If you like to donate some new or old photos of Jessica Lange like photoshoots, Stills, Scans, Events, etc. Also you took fan photos with Jessica, and fan arts like blends, wallpapers, icons 100x100, animations, etc for fan extras section for fans. Your donation will be welcomed and you will be credited by your name or nickname or your site. Please put 'Donation' as the subject in the message. Thanks! please send an email to hollywoodfangirl89@gmail.com
SITE STATS
Maintained by: Milena • Twitter
Designed by: Milena
Since: December 17, 2014
Hosted by: Flaunt Network
Previous Domain: jessica-lange.us
Best Viewed: Firefox, Safari and Chrome.
Listed at: Not Yet


DISCLAIMER
Jessica Lange Fan at jessica-lange.com is an unofficial fansite. We have no contact with Jessica, her friends, her family, representatives, etc. This site is made by fans for the fans. All images in the gallery belong to their respectful owners and no copyright infringement is intended. All content and graphics are copyrighted to SAK unless otherwise noted.
Flaunt Network | Privacy Policy | DMCA
© Jessica Lange Fan | jessica-lange.com
2014 - 2016
Happy Birthday Jessica Lange!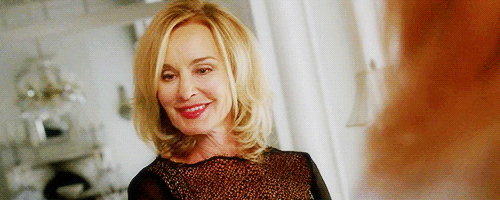 Jessica Lange Channels The Depth And Desperation Of Joan Crawford On 'Feud'
Jessica Lange has much in common with Joan Crawford, the icon she resurrects on Ryan Murphy's Feud. The two high-cheekboned actresses launched their careers as models and dancers before studying the art of silence; Lange as a mime, and Crawford as one of the last pre-talkies glamour girls to transition into sound. At first, Hollywood typecast them both as "The Babe", a dismissal they fought by diving into extra homework. Crawford, who quit school after 5th grade, read scripts with a dictionary.

"She'd have to look up every couple words," says Lange over the phone from a well-earned vacation in the woods. "She was an absolutely dedicated, diligent student—she wanted so badly to be a movie star."

Crawford became one. And then, thanks to a toxic cocktail of misogyny, ageism, ego and vodka, her star faded, a dimming that Lange embodies with what can only be called merciless sympathy. Her Feud portrayal kicks off with Crawford embracing—and conquering—gothic camp in the 1962 hit Whatever Happened to Baby Jane? "Her scenes in Baby Jane showed she was still vital as an actor," says Lange, "and from then on it was all downhill." When Crawford's gamble didn't pay off with her agent's telephone ringing off the hook, and her Oscar hopes were handed instead to her co-star and rival Bette Davis, the legend shuttered her glow from the industry that had once beamed her name in lights.

Here's where Crawford and Lange's stories differ. Baby Jane was Crawford's turning point for the worse. But dredging up Crawford at her worst has earned Lange an Outstanding Lead Actress Emmy nomination, alongside co-star Susan Sarandon as Bette Davis—an irony that would have their characters howling (and grabbing their phones to backstab each other to gossip columnist Hedda Hopper, here played by Judy Davis).

Arguably, Feud has already helped Lange win two Emmys. Murphy first pitched Lange on the project in 2009, three years before they paired up for American Horror Story, where the pedigreed Lange startled fans and seduced awards voters with a terrifically fun volte-face as, in different seasons, a vain witch, a wild nun, a wicked mother, and a stage diva who chainsawed her own legs off for fame. Clearly, Baby Jane was on both of their minds. "It was always kind of lurking out there," admits Lange. Pity her own gonzo resurrection hadn't worked as well for Crawford.

Still, Lange, too, works double-time to prove her worth. After her bimbo debut in the 1976 re-do of King Kong, Lange became a scholar of doomed actress Frances Farmer for the biopic Frances, where she met Sam Shepard, her partner for 27 years. (The pair split in 2009; Shepard passed away shortly after my interview with Lange.) Farmer was another screen beauty forced to fight the system. She lost, and ultimately wound up lobotomized. Lange watched everything she did, even home movies from when Farmer was an unknown frolicking in summer stock. Lange lost weight and gained dark circles under her eyes. On set, she teetered on the edge of a nervous breakdown. But when it was over, she'd earned her first Best Actress Oscar nomination, plus a second Best Supporting Actress nomination for Tootsie. And, like Crawford and Davis before her, she'd also been landed with the industry's booby prize: a rival named Meryl Streep.

Hollywood loves a cat-fight. The two talented blondes, born two months apart, had already competed head-to-head for roles. Now, they were up against each other for Best Actress. Ultimately, Streep won for Sophie's Choice. Lange was content to take home Best Supporting Actress for Tootsie, and 12 years later finally claimed Best Actress for Blue Sky. In Feud, Bette Davis sleeps with her Oscars. "Well, I don't," laughs Lange, though she swears "they're not used as doorstops."

Unlike their forebears, new superstars Lange and Streep knew not to take the gossips' bait. Streep admitted that she wished she'd scored the part of Patsy Cline in Sweet Dreams, but that "Jessica Lange did it and she was fantastic." As for Lange, she insists that she "never paid much attention to that." Instead, she focused on recovering from Farmer, an experience that exhausted her so much she once vowed, "I'll never do a role like that again."

How could she not? Lange came of age during disco, but has classic Hollywood in her soul. She has the controlled spine and calculated voice of an old-fashioned star, qualities that are innate. Lange became famous channeling Fay Wray, and went on to put her stamp on all of the great roles, from Blanche DuBois and Maggie the Cat to remakes of The Postman Always Rings Twice and Sybil, where she tackled parts first played by Lana Turner and Joanne Woodward.

Lange didn't watch their versions, or check up on Vivien Leigh and Elizabeth Taylor. "It's not going to help my interpretation of that character," says Lange. Which means, no, she didn't watch Faye Dunaway's looney-bin spin on Crawford in Mommie Dearest, either. She didn't even read the memoir, furiously penned by Crawford's angry eldest daughter. As Lange explains, it didn't make sense to trust the viewpoint of "somebody who had a lifetime of emotional investment in telling her story." Instead, Lange channeled Joan by studying Joan. Everything Joan. Lange had barely slipped out of the Edwardian dressing gowns of her Tony-winning turn in Long Day's Journey into Night before her life became a cram session of Crawford's biographies, interviews, and of course, films—effort Joan would approve.

"It really was like jamming for a final," says Lange. She would earmark Crawford's quotes, and convince Murphy why they needed to be in the show. Nine times out of 10, he'd agree. "Maybe the frantic quality of learning about her helped in some odd way," adds Lange. "I think there was a bit of desperation on my part, and that carried over into playing her."

There's desperation, sure, in how Lange captures Crawford's self-consciousness, the vain thrust of her chin, the thick eyebrows she calculated to be "just about the same size and weight and darkness," though they don't seem to dominate Lange's face as much. In Lange's cautious diction, you hear Crawford's fear of backsliding into the Texas urchin she'd been back when she was streetwise Lucille LeSueur. ("Joan Crawford" was a stage name.) You even see that anxiety in her apartment, where Crawford has nervously wrapped her expensive furniture in plastic that had Lange skidding every time she sat down. "Sets like that served us very well," says Lange, "but I found them all so terribly sad." As for Crawford's rigorous beauty rituals, like the sink filled with cold witch hazel and ice cubes, Lange laughs, "It can't do any harm, but I'm not sure it's the magic elixir, either."

Yet, even after all that preparation, Lange blinked when she first walked into Crawford's mock apartment and saw a portrait of her—or rather, of herself as Joan Crawford—prominently displayed over the fireplace. "I couldn't figure out who it was for a moment," admits Lange. "It was my face but with all the accouterments. It was very disorienting."

What earned Lange her eighth Emmy nomination isn't her mimicry. It's her empathy. At times, Feud can seem almost too cruel to Crawford, like an early scene where Baby Jane director Robert Aldrich (Alfred Molina) recoils from her kiss. The show plays that moment for a cringing laugh at the over-confident biddy who still believes she's a sex goddess. But in a blink, Lange makes you feel Crawford's pain. When the script strips Crawford of dignity, Lange reveals her vulnerability and pride. Rejection hurts. But Crawford's been through worse.

"I became obsessed with her childhood," says Lange. Lucille LeSueur was sexually abused by her stepfather at 11, then thrown into a boarding school where she was forced to earn her keep by cooking and cleaning for her classmates. Hollywood was LeSueur's ticket out, and she seized it with a grip she wouldn't release for 50 years. "If you look at her early films, [Our] Dancing Daughters and the early footage of her, there's an abandon, almost a kind of vulgarity to her," says Lange. "I don't think it was a mistake that [F. Scott] Fitzgerald referred to her as one of the original Jazz Babies. I would have loved to ask her about the extreme of going from that girl who danced to 'Black Bottom' or the Charleston to 'Joan Crawford,'" says Lange, pronouncing LeSueur's new name like stiff velvet.

As Lange's Crawford sighs in the season finale, "I felt like I always had to be on, that if someone caught a glimpse of the girl beneath the movie star then—poof!—I'd go back to that sad little wretch I'd been." Back then, the average civilian couldn't comprehend the pressure of creating, and maintaining, a public image. Today, thanks to Instagram, we do. And while there's no single journalist as powerful as Hedda Hopper, a woman who took pride in creating, and wrecking, careers, Lange notes that, "the internet, as a kind of anonymous entity, is successful at that from time to time.

"When you think about being under contract to MGM or Warner Bros., and what you had to do to hold on to that position, it's hard for people to even understand what was at stake with that stardom," says Lange. No wonder Crawford was armored—literally. On that infamous 1963 evening when Crawford sabotaged Davis's Oscar win and stole the spotlight by accepting Anne Bancroft's award, she steeled herself in a silver beaded dress that weighed over 40 pounds. Murphy recreated the entire backstage of the Santa Monica Civic Auditorium and sent Lange stalking through it in a tricky single shot where she passes through green rooms and kitchens, nods at wannabes, and even pats a man on the back while he's at the urinal, before pausing to crush a cigarette right before she goes onstage to officially win Hollywood's Cattiest Queen. "Between takes, we'd have to slip the dress off because it was just making my back and shoulders and everything ache," says Lange. But Crawford forced herself to carry its weight all night.

At this year's Emmys, Lange could have an opportunity to lay Crawford's ghost to rest. What if no matter who wins—her or Sarandon, or their other worthy contenders Carrie Coon, Felicity Huffman, Nicole Kidman and Reese Witherspoon—the actresses march out arm-in-arm in solidarity, defying an industry that pits talented women against each other? Lange chuckles at the image. "I hadn't thought of that!"
Source: Deadline Hollywood
AARP: Jessica Lange Can Finally Relax
After collecting every major acting award, is it time to kick back?

Jessica Lange makes me nervous.

Over 40 years of intense, edge-of-madness performances, she's specialized in playing high-strung characters with dangerous dark sides. At 68, she's still intimidatingly gorgeous, and as she moves across the backyard of a rented Beverly Hills mansion to meet me, I feel my palms dampen. But then she stops short.

"Look!" she exclaims. "A hammock and a daybed! My favorite things — places to nap." She drops into the hammock, taking a blissful swing as a hummingbird buzzes overhead. It's rare, and somewhat reassuring, to see Lange in laid-back mode. She's known, after all, for roles such as the self-destructive actress in Frances (1982) and the hermit heiress in HBO's Grey Gardens (2009). Lange portrayed another troubled star, Joan Crawford, in this year's FX series Feud.

As an actress, Lange has seldom chosen the easy path, or failed to persist. Propelled by a spirit of adventure, she voyaged from small-town Minnesota to the bohemian outposts of Paris and Manhattan, then to her first Hollywood screen test. Panned for her movie debut, as the damsel in distress in 1976's King Kong, she kept honing her skills until she was ready for something better. After a slew of acclaimed films, she made her first Broadway foray at 43; when that production got poor reviews, she kept returning to the stage until she earned raves. She took on Shakespeare at 50 and plunged into series television at 62. Along the way she's picked up two Oscars (best supporting actress, Tootsie; best actress, Blue Sky), five Golden Globes, three Emmys and — in 2016 for her role in Long Day's Journey Into Night — a Tony for best actress.

"Tootsie turned out to be the best film I ever made."
— Jessica Lange
Lange has been just as bold off the set. She threw herself into long-term liaisons with larger-than-life men — dancer Mikhail Baryshnikov, who gave her a daughter, and playwright-actor Sam Shepard, with whom she had a son and a daughter before they separated in 2009. Fiercely protective of her family's privacy, she raised her kids in rural hideaways but has never hesitated to venture forth when the cause is right: Since 2003, she has served as a goodwill ambassador for UNICEF.

Lange announced in 2013 that she was thinking of retiring, yet has shown no sign of slowing down. Her staying power isn't just about the boom in meaty roles for older actresses on television. "It's the desire to do something brave," she says, "to be challenged."

She reflects on a number of big times in her life.

The Meaning of Home Cloquet, Minnesota

My father was a traveling salesman and a teacher, and we moved around a lot. I went to eight different schools — I was always the new girl in town, the outsider looking in. I've felt that way my whole life, like I never belonged in one particular place. The imagination was my escape and my entertainment. That's what acting still is for me.

Disastrous Movie, Gritty Response King Kong, 1976

Getting cast in the Fay Wray role was such a fluke. I was just back from Paris, and all skin and bones with a white Afro, and they took one look at me and said, "She's not right." But then they flew me out to MGM to put me on camera — what did they have to lose? And by the time I left, I had the part. I had no idea how big the movie was, or that coming out of it I wouldn't be taken seriously. I went back to taking acting classes for a few years. When you're young, you don't see the connections, how one thing leads to the other.

The Truth About Jack The Postman Always Rings Twice, 1981

Jack Nicholson and the director, Bob Rafelson, were incredibly kind and generous, trusting an unproven actress with a major dramatic role. I learned a lot from being around Jack — he's one of the great film actors of all time. He understood the camera and what to do when. He showed me the power of gesture.

Mikhail Baryshnikov Partner from 1976 to 1982

When I first met Misha, there was something so familiar about him … physically, emotionally, everything.

A Simpler Time First Academy Award, 1983

I knew when I did Frances that it was something extraordinary. I love those kinds of parts, with huge emotional swings. But Tootsie turned out to be the best film I ever made. And to win my first Oscar for it was thrilling, not terrifying, the way it might be today. The awards were more casual then. You did your own hair; you did your own makeup. It wasn't the fashion event of the season.

If at First You Don't Succeed … A Streetcar Named Desire, 1992

I hate not getting performances right. Blanche DuBois was a part I had always been in love with. Ultimately, I wasn't really prepared for it. I didn't understand stage the way I did film. The critical response was negative. It was hard. But I kept trying, and finally, with Long Day's Journey, we had a great production.

Digging Deep Blue Sky, 1994

My connection to the manic-depressive character of Carly came organically. You draw on grief, sadness, rage — those things in your own life. What's interesting is to let something emerge that surprises even you.

Sam Shepard Partner from 1982 to 2009

I wouldn't call Sammy easygoing and funny, but everybody has their dark side, and he always does it with a sense of humor.

Helping in Congo UNICEF mission, 2003

A civil war was just getting started. I met women who'd walked through the jungle for days, with terrible injuries, carrying their children. I can't go in and help the way Doctors Without Borders does. But at least I can try to raise awareness.

Behind the Lens 50 Photographs by Jessica Lange, 2008

I've been taking photographs for about 20 years now. I love to be the anonymous observer, capturing small dramas that no one else has noticed.

My First Children's Book It's About a Little Bird, 2013

It started as a little story I wrote for my granddaughters. I was very interested in turn-of-the-century photographs and the way they would be hand-tinted. So I collected a lot of photographs I had taken of the kids and started hand coloring them. Then the story came together after I had a dream, and I put it together as their Christmas present, as a book. And then a friend of mine saw it and said, "You should publish this."

Fear Factor American Horror Story, 2011–15

Horror has never been my favorite genre, but Ryan Murphy, the producer, is a great seducer. I thought, I'll do it for a year. And it turned out to be four years of amazing roles. Television has been great.

On Older Women in Hollywood

Ageism is pervasive in this industry. It's not a level playing field. You don't often see women in their 60s playing romantic leads, yet you will see men in their 60s playing romantic leads with costars who are decades younger. I think about how few wonderful actresses of my generation are still doing viable, important film work. You go to television. You go to the stage. You do whatever you can because you want to keep working.

On Happiness

In recent years I've tried to come to grips with the idea that you can actually choose to be happy. You can choose not to let things affect you negatively. I've always had such a quick temper. I realize now, it's such a waste of energy. You can actually choose to let things roll off you.

On the Joy of Family

Having children gives you a perspective you didn't have before. You are no longer the center of the universe. It opened my heart, made me a different person. Every move you make is with someone else in mind. I loved being a mother more than anything else in the world, and being a grandmother is even more fun. There's the chance to do it again. It's in the perfect order of nature: You raise your children, and then the next generation comes along. They are the redemptive force in nature. Plus, it's easier!

5 Things You Didn't Know About Jessica Lange
Dylan unbound

Lange says she can "sing every lyric Dylan ever wrote. He was a transformative artist in my life."

If she could change one thing …

It would be her "absolute willfulness."

Tale of two tats

Lange got her first tattoo in Paris at age 19 — a crescent moon on her hip, the smallest one offered. She also has a Celtic knot on her wrist; her older daughter is similarly inked.

Casper friendly

"I've seen a presence. Most ghosts are easy, benevolent."

On loneliness

"Where I grew up, it seeps into your bones. Seems I've spent my life trying to fill it up."
Source: AARP The Magazine
Lange Talks Working Harder Than Ever Before on Long Day's Journey
Stage and screen star Jessica Lange is nominated for a 2016 Tony Award for taking on the role of Mary Tyrone in Roundabout Theatre Company's Broadway revival of Long Day's Journey Into Night. TheaterMania sat down with Lange for a conversation about how she came to play this iconic role.
Lange "Long Day's Journey Into Night" Tony Awards 2016 Backstage
Jessica Lange backstage at the Tony Awards 2016 after winning Best Actress in a Play for 'Long Day's Journey Into Night.'
Jessica Lange Backstage: Thank you, Ryan Murphy
After not even being nominated for her past Broadway appearances in "A Streetcar Named Desire" and "A Glass Menagerie," Jessica Lange won lead actress in a play for playing Mary Tyrone in "Long Day's Journey Into Night" — and she said the role was "nearest and dearest" to her heart.

"I've played Blanche three times, Amanda in 'Glass Menagerie' twice, and now Mary twice, and she is my favorite role," Lange said.

She noted that she has Ryan Murphy to thank for it. She had told the "American Horror Story" producer that she wanted to revisit Mary Tyrone, whom she'd played 16 years ago in London. (Lange won an Emmy for her role in Murphy's limited series.)

"He secured the rights, and then we took it to Todd Haimes and the Roundabout Theatre," she said. "So I am here by his friendship and good graces."
Source: Los Angeles Times
Of Booze, Brutal Honesty and Family: 'Long Day's Journey Into Night'
On a rainy Tuesday morning, the actor John Gallagher Jr. settled into a chair in a lounge above the American Airlines Theater and described a bleary night off, which began with beers in a Park Slope bar and ended with margaritas in a Clinton Hill taqueria. "I had a lot of real booze last night," he told his cast mates, "which I'm regretting now."

These days, Mr. Gallagher and his fellow actors are already drinking plenty of the fake stuff on the job, as part of the Roundabout Theater Company's revival of Eugene O'Neill's "Long Day's Journey Into Night," which opens on Wednesday, April 27. Written in the 1940s, with the stipulation (long since disregarded) that it should never be performed, the play is a singeing union of fiction and autobiography, recording a single bourbon-soaked day — from morning to past midnight — in the Connecticut summer house of the Tyrones, an Irish-American clan closely based on O'Neill's own family.

In Jonathan Kent's production, Jessica Lange ("American Horror Story") plays the mother, Mary Tyrone, a former convent girl now struggling with morphine addiction, a role Ms. Lange first took on in London 16 years ago. Gabriel Byrne ("In Treatment") is her husband, James, a prosperous actor in melodrama, who fears he has sacrificed his art for material success. Michael Shannon ("Boardwalk Empire") plays the older son, Jamie, an alcoholic "Broadway loafer." Mr. Gallagher ("The Newsroom") is the younger son, Edmund, the O'Neill stand-in, whose burgeoning career as a writer is threatened by tuberculosis.

The production joins several recent high-profile revivals of O'Neill's late work — "A Moon for the Misbegotten" at the Williamstown Theater Festival, "The Iceman Cometh" at the Brooklyn Academy of Music, and most recently, this season's short-lived revival of "Hughie" on Broadway.

In street clothes and under ordinary lighting, the "Long Day's" performers may not look like much of a family, but onstage they achieve the rhythms of people who have lived close together, happily and unhappily. Offstage, there are hints of kinship, too. They know how to rile and how to soothe, how to tease and how to praise.

Before an afternoon rehearsal and an evening performance, they spoke about playing haunted, playing drunk and planning a Tyrone family picnic. These are edited excerpts from the conversation.

What work did you have to do to feel like a family, to become the Tyrones?

JESSICA LANGE It's just honoring the play, honoring the writing. It's all there. You arrive at a deadly truth, because of what O'Neill has written and the way he's written it.

MICHAEL SHANNON It's one of those plays where you read a page, and it directs you to a story in your past. So you tell that story. The next thing you know, you have this quilt of all these shared experiences. More than anything, it's a matter of getting to know one another. You do as much bonding in the tea breaks as you do running the scenes.

GABRIEL BYRNE A genius of the play is that although it's an extremely autobiographical piece, it transcends his family and becomes kind of a universal family. I don't know how that happens, but people sit in the audience and relate to the characters.

LANGEWe had an experience at our first matinee. We had close to 200 New York City schoolchildren in the audience. They were so intent on listening to this play. There was a moment where Edmund says to Mary, "It's pretty hard at times having a dope fiend for a mother." And there was this gasp, audibly, that came out of the audience. You knew it was these children. Everybody connects to it for one reason or another.

Does this play make you think about your own families, your own inheritance?

SHANNON My dad really loved O'Neill. He would go and see these plays in their original incarnations on Broadway. He's passed away, but it's still kind of a way of connecting to him. It would blow his mind if he knew I was doing this. But there were never any rehearsals where we were piled on the floor, sobbing. We all seem to be fairly pragmatic actors. We're not trying to beat [up] ourselves and each other. We just want to tell the story.

JOHN GALLAGHER JR. Even if you don't have such an extreme family dynamic, there's still something in that three and a half hours that will feel really relevant.

In his dedication, O'Neill described the play as a reckoning with "all the four haunted Tyrones." What haunts them?

LANGE It is a bit of a ghost play.

GALLAGHER Edmund talks a lot about ghosts. By the end of the play, I refer to Mom as a ghost.

LANGE Each one of the characters has a past that they are still so profoundly connected to, because life now has become so untenable. Being able to move almost like a ghost back and forth between times, that's how Mary survives.

BYRNE They are incredibly sensitive people. They are torn apart by the reality of living and try to escape from it, either through memory or through drink or through drugs. Sometimes life can just be so appalling.

LANGE I came upon a Yeats quote, which I think has a lot to do with this play. I really see this so much as an Irish play: "Being Irish, he had an abiding sense of tragedy that sustained him through temporary periods of joy."

BYRNE I hate to say it, but I think that's a lot of bollocks. It sounds great, but actually when you examine it, it's a way of defining an entire people with an easy kind of aphorism. We are a very complex multifaceted family of human beings.

Continue reading the main story

RELATED COVERAGE

Shame and Guilt Drives Several New Productions, Which Is Good for Us FEB. 18, 2016

LANGE You don't think there's an abiding sense of tragedy in the Irish? Come on!

BYRNE No, I think tragedy has been foisted on them. Just my own opinion. But you and Mr. Yeats ——

LANGE No, no, no. I'm not going to argue with a [expletive] Irishman.

Is there any secret to playing drunk or doped up?

SHANNON Jonathan, our director, never really made a big thing about it. It's not like people get drunk and all act the same way.

GALLAGHER Yeah, it's kind of specific. When Edmund enters in Act IV, he's had about 15 whiskeys from noon to midnight. He just kind of gets angry. He spends so much of the play trying to cover things up. It takes 15 whiskeys to actually say, "It's your fault, you're to blame."

LANGE As far as morphine, I could do every scene on the nod, which wouldn't do much for playing the scene. It's delicate there. You really have to temper that drug of choice, whether it's alcohol or morphine, with honoring the text and telling the story. Otherwise it would be a bit of a mess.

GALLAGHER You think the play is repetitive now! If we were really drunk, it would be one line over and over again.

BYRNE If it weren't for the alcohol in the play, it would be over in 10 minutes. It's a brilliant dramatic device for allowing the characters to tell the truth to each other.

LANGE Endlessly.

O'Neill sometimes doubted his abilities with language. What does the language in this play give you?

LANGE If he was writing it with the intention of its being read but never played, what he achieved was pretty astonishing. I don't think there's ever a moment where the language feels stilted or unnatural.

SHANNON I think it's some of the strongest dialogue I've ever said in my life. Maybe he was comparing it to what he read, because he was so incredibly well read and was surrounded by beautiful poetry.

BYRNE There's an incredible precision to the language — where he places the full stops and how he runs the rhythms in the speeches together. You can't say that it's naturalistic speech, just as you can't say it's a naturalistic play, and yet, it is. But I found the dialogue hard to learn.

SHANNON Well there was definitely bellyaching about all the "For God's sake," "For Christ's sake," "For Pete's sake."

GALLAGHER Everybody has their own thing that just comes up again and again, varied ever so slightly.

LANGE It is like a piece of music, theme and variation.

SHANNON But family is repetitive. My mother has told me the same 20 stories my whole life. But every time, it's as if she's never told it to me before. My sister just visited this weekend. She saw the play Saturday night. Same thing with her. Same stories, same issues. Nothing is ever resolved.

This play may not take a full day to perform, but it is long and each character suffers a lot. Is it difficult to act?

LANGE You wouldn't do this if you wanted to enter into something casually. I found that Mary Tyrone demands more than any character I've ever played. Blanche comes close. Frances Farmer comes close. This part more than any and this play more than any, it's a real step off into the abyss. We realized from the beginning is that nobody could hold back.

SHANNON To me, it feels like a real privilege to do this play. It feels like being admitted into some secret society or something. There's a lot of good actors in the world, but they don't all get to do this.

BYRNE There's one thing you can never get away from: It's O'Neill's ruthless honesty, the bravery that he has. What he's addressing perhaps is a kind of nihilism about life. Love does not save you. Family doesn't save you. Truth, the expression of it, doesn't save you. You still push into night. Faith doesn't really mean anything in the face of darkness. There's a kind of comfort in knowing that we are all headed that way.

What do you do when the show finishes? Do you have a real drink together?

SHANNON We mostly see each other onstage. We kind of disappear afterward. We had this notion of, "Oh, we're going to have family dinners and bonding time." None of it has happened.

BYRNE It's very true. We meet on the stage, and we meet in those moments. We've developed this bond as characters, not as people. Or am I wrong about that?

SHANNON I'm looking forward to maybe eventually having a picnic.

BYRNE In Central Park.

LANGE A potluck.

GALLAGHER All the Tyrones.

BYRNE Long Night's Journey Into Day.
Source: The New York Times
Old Interview with Jessica Lange by Charlie Rose
DP/30 Emmy Watch: Jessica Lange AHS: Freak Show